DIGIWEATHER
WEATHER ONLINE
DigiWeather is the easy simple way to benefit of:
Temperature values measured by the National Meteorological Administration's weather stations
Two types of forecast: nowcast for the locations in the list ("how shall the weather look like during the next 3 hrs") and three days forecast. These forecasts are written by the NMA's specialists.
When, for a certain location, dangerous meteorological phenomena are forecasted, wheather alerts are promptly transmitted through DigiWeather. These are signaled visually and acoustically.
DigiWeather connects you directly to the national radar mosaic on the NMA's site
To run DigiWeather on your desktop, all you have to do is following these simple steps: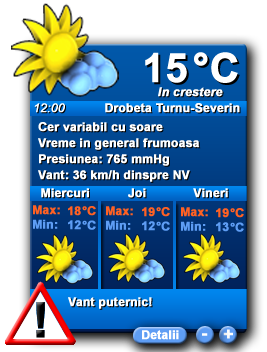 Running platforms: Windows 2000/XP/2003/Vista, Mac OS

METEO


TAKE THE WEATHER WITH YOU

Keep up to date with the latest weather information and forecasts, get Doppler radar animations for the latest hour and real time lightning data.
Read more...
POCKET FHM


BE THE FIRST TO KNOW

Pocket FHM is the first wireless virtual magazine in Romania. It provides fresh weekly updated content to users.
Read more... FHM Site...
TUNE UP


BE DIFFERENT! BE ON TOP!

Romanian and international music hits, sounds to get you out of the crowd, cool wallpapers - all available only with TuneUP.
Read more...