LINES TOURNAMENT


BE A CHAMPION!
Can't you stand how your favorite team plays? Would you throw something to your boss? Are you in the middle of a crowded train, but you still have one free hand? Better draw the line and play Lines tournament. You can even become a champion!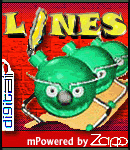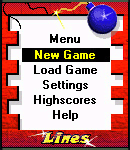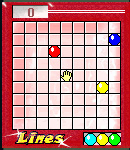 All you have to do is to master the colored little balls on your cellphone display. Arrange five or more of the same color in line on horizontal, vertical or diagonal and they will disappear. Otherwise, if you can't put them in line, at each move another three balls will appear. Be carefully to your screen not to get filled or you will lose! Collect as many points as possible and you will become a champion!



But that's not all! If you enroll in the online championship and get a great score, you can win a prize! For the first place we have a surprise! Check every time your position straight from your cellphone. You don't even have to quit the game. Also, if you are in a hurry and don't have time to finish the current game, you can save it to continue later. Don't forget that if you don't play, the others will beat you up!
Here are five reasons to choose Lines Tournament:
It's a captivating game
You can set your nick-name and enroll into the championship
You can check your position in the tournament any time
You can save and then resume any game
If you have a great score, you can win a prize!
Lines Tournament is available for downloading in ZappMe Catalog. More details on Zapp website.
Warning! The game is addictive!
Running platforms: Z710i and other BREW Devices